Downtown Greensburg Small Business Saturday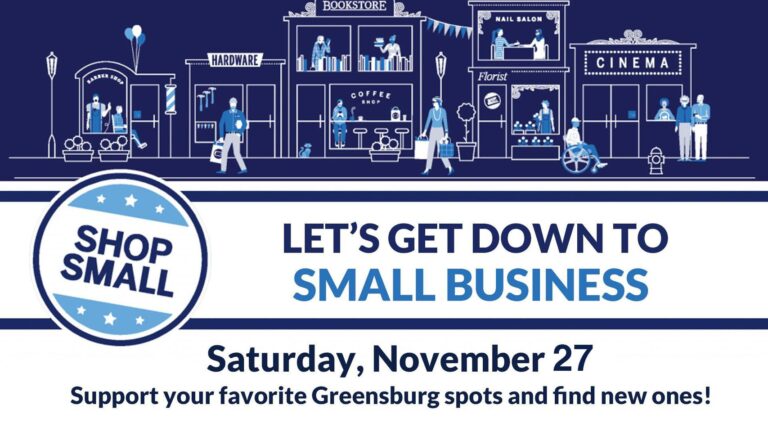 Small Business Saturday is right around the corner, happening on Saturday, November 27, 2021. This annual nationwide event was created by American Express as a way to celebrate and support small businesses and all they do for their communities, while encouraging consumers to shop local. Small Business Saturday takes place every year on the Saturday after Thanksgiving. Just as big box stores have Black Friday and Cyber Monday, small businesses have their own kickoff to the holiday shopping season. The goal of Small Business Saturday is to remind consumers that they play a significant role in helping the small businesses in their neighborhood thrive, and encourage them to get out and shop and dine at local establishments.
As part of the event celebration, the Greensburg Community Development Corporation (GCDC) and  Shop Greensburg, along with the Downtown Greensburg Project (DGP), have partnered with 21 local businesses to organize a Small Business Saturday BINGO game as a fun way to encourage shoppers to visit our local retailers.  By shopping or dining at small businesses in our community, people show support for the businesses of downtown Greensburg, and ensure that they continue to thrive.
To play Small Business Saturday BINGO, shoppers simply pick up a BINGO card at one of the participating small businesses and start exploring downtown shops. When shoppers visit a business, they must locate the Holiday Elf that will be placed somewhere inside each store. When a shopper finds the elf, they must have the store owner/staff member sign the box designated for that particular store.
Once a shopper completes a standard BINGO (5 in a row) their name will be placed in a drawing for a chance to win a gift card to a participating business. 21 shoppers will win a gift card valued at $10 – $50.   Those who complete a blackout, meaning they fill every square on their BINGO card, will be entered to win the grand prize of a $200 gift card to a participating business of their choice!
You may also download your own Small Business Saturday BINGO card below to print at home!